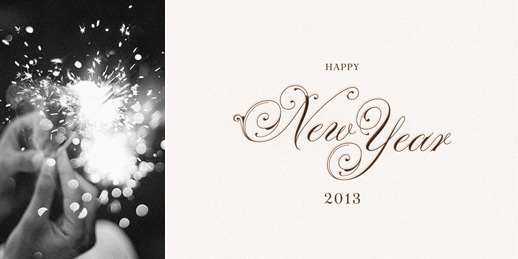 Happy New Year! Hope you enjoyed the holiday season and have welcomed 2013 with optimism and great expectation. I'm finally excited for this year. Truthfully speaking, I was a bit apathetic in the beginning. A new year meant saying goodbye to a year I didn't want to lose. It meant closing the door on a chapter I didn't want to end. I'm not a big fan of change, and 2012 forced changes on me that I didn't think I was ready for – the biggest being the loss of my aunt Henri. I felt tired from the year's end. I was emotionally spent. Then I realized: I need a refresher, a new year. That's the way life goes. We have seasons, and just because one cherished and wonderful season comes to an end, doesn't mean other great things aren't ahead of you. We remember. We hold on to what matters. We press on. Even when it hurts.
2013 will be a year of change. Big changes. Some forced, some elected; but all I'm ready to face head-on. I'm ready to make things happen. Heck, I'm already making things happen! 2013 is my year; I've claimed it! It can be your year, too. No more wasted time. No more fear. No more settling.
What am I making happen in 2013? Here are my goals for the new year:
More God – This is an ongoing goal. We can never get enough. I need more of Him every single day. I need to spend more time in the Word. My brother has challenged me to do this. He's asked me so many questions about Scripture, and some I had no clue on until I did some deeper study. I want to know these things. I want to know God more intimately. More God, less self.
Embrace Change – No letting fear hold me back. No feeling sad for what's gone. No letting my feelings cripple my faith and my ability. It's time to take on new challenges. It's time to grow. It's time to allow God to do a new work in me and my life.
Clear the Clutter – I'm clearing the clutter online, at home, and in my head & heart. I've let too many things hinder me from making the most of my time and my life. I'm clearing the clutter to focus on what matters – God, my family, my friends, giving back, my brand and business. I know it will be a ton of work, but it'll be worth it.
Be a Blessing – I want to be a blessing to other people. Through my words, through my actions, and through giving. I want to be a better listener, friend, sister, daughter, neighbor.
Build Skills & Creativity – I have so many ideas for creating. It's time to bring them to life. I want to create meaningful products that will bless others and inspire them to live better lives. I want to create products that will help bring what matters most to the forefront and help others enjoy the things they cherish. I want to continue to write and expand my vocabulary and build my skills as a writer. I want to create thoughtful gifts – whether it's a batch of cookies wrapped up and topped with ribbon or a gift basket with fun essentials, or a heartfelt letter or DIY. I want to use the gifts God has given me to be a blessing.
Savor the moments – Life is short. I want to continue to soak it all in and make the most of every opportunity I have to enjoy other people and bless them by being fully present. No technology getting in the way. Life's too short.
What are your goals for the new year? What will you make happen? I'd love for you to share with me!
Images via