Hi, friends! I told you this was a year for change and making things happen, right? Well, I started the year by taking The Challenge by Lara Casey. Truly a great process to help you change your life for the better by helping you clear the clutter to focus on what matters and make things happen. Need a little clarity? Ready to simplify things? Ready to make things happen? Me too! That's why I took The Challenge. I want to set myself for success this year. I want to de-clutter to focus on the good and make the most of my time. So that's what I'm doing.
Last week, I began to Clear the Clutter. Guess it's the organizer in me, but I totally love this step. I've unsubscribed to company emails, cleaned my desktop, gutted my blog list. Talk about a freeing feeling! It's amazing how much time you add to your days when they're not bombarded or filled with unnecessary content. It's amazing how at peace you can be when your mind isn't boggled down by things that don't matter. So this is clarity. So this is how easy making a decision can be. I'm getting back to the things that matter most.
Then last weekend, I began to clear the physical clutter. I started with my bedroom and hall closets. Y'all, I cleared out just over 50 articles of clothing, old junk, old papers (like college old), and it felt amazing! To top it off, I rediscovered my seersucker jacket! Totally forgot that I had bought this southern staple on sale at J.Crew at the end of last summer. I only got to wear it a handful of times. Looks like I'll be making this jacket happen next season. Can't wait!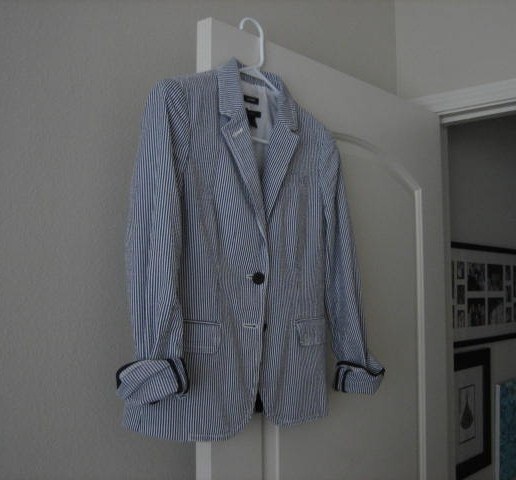 P.S. How are your 2013 goals coming along? Anyone else de-cluttering?