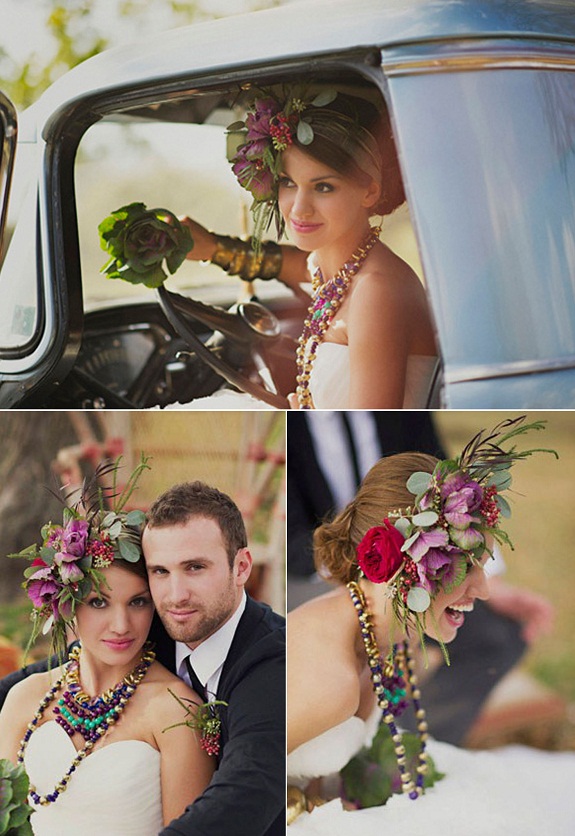 Morning, lovelies, and happy Friday the 13th! This has been quite a productive week, and I am happy to say that I have been able to maintain a healthy balance, which has been incredible. Now that it's Friday, I'm ready to welcome the weekend with a little cheese and a bottle of wine Coca Cola (weird, I know, but so, so good). There is this cozy, little wine bar just a few minutes away from where I live that serves some of the best cheese options and Mexican Coca Cola. Their wine host paired several delicious cheeses with my Cola last time I was there, and it was the perfect mix! I cannot wait to get back there. What have you got planned for the weekend? Any hot spots or local favorites you're hoping to hit up? Wishing y'all a beautiful weekend, and enjoy my favorite links from the week!
Slightly obsessed with this bohemian bride's headdress.
Would you dare to have neon bridesmaids?
Love the mix of lime green, orange, and turquoise to create a colorful baby shower.
10 tips to organize the chaos.
I need to get my hands on this book.
Beautiful DIY calligraphy decals…seriously love these.
I'm diggin' this Earth Day party décor.
Can't wait for Trader Joe's to open so I can make these!
Dreaming of life on a farm after reading The Making of a Modern Farmhouse (you will swoon over the photos!).
Stylish, southern and all about seersucker…
and speaking of seersucker, did you see this top style pick?
*Photo Credit: Melissa McCrotty via I Love Farm Weddings