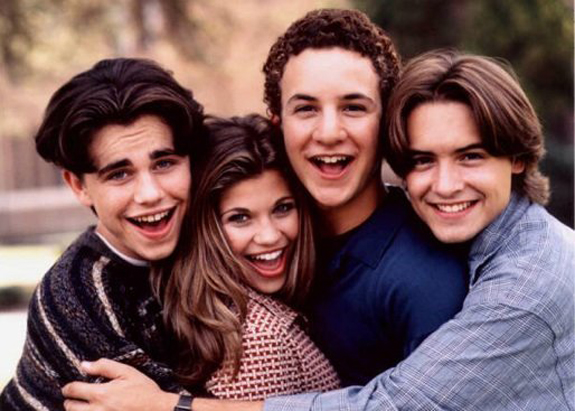 Recognize these smiling faces? Maybe you've heard the news… Boy Meets World is coming back to television!
We each have our favorite sitcoms of all time. You know, the ones that even now make us feel a bit nostalgic and that we still get giddy over when we see an episode air on TV. One of those sitcoms for me is Boy Meets World, the beloved '90s sitcom (yes, I'm a '90s child) that chronicles the life of Philadelphian, Cory Matthews (played by Ben Savage). I used to tune in to TGIF every Friday night to catch Cory, Topanga, Shawn and the rest of the gang in their adventures. Even now, I'll sometimes catch episode reruns as I ready for work in the morning. Imagine my excitement when I learned that Disney will reintroduce the show this year! This time, Cory and Topanga are parents; and the new series, Girl Meets World, will follow their 13-year-old daughter, Riley.
The announcement was made last November, and production is set to begin soon. So looking forward to this one.
About the series, Danielle Fishel (Topanga) said, "we want to bring it back with the same heart and integrity and innocence that the first one had. We're going to make sure we don't let anybody down."
Hooray! And how refreshing to hear, especially with today's lacking TV entertainment lineups. It'll be nice to have a show with heart, integrity and innocence.
What are your thoughts? Are you a fan of Boy Meets World? Will you tune in to the new series?
*News source and image