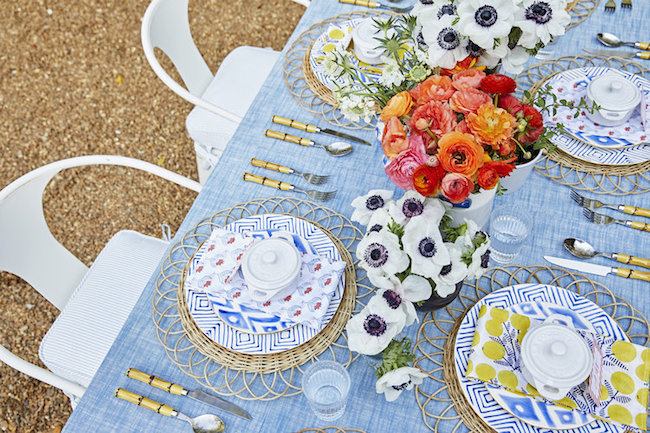 photo by Tec Petaja
Happy Friday, friends! Here are a few things that made me happy this week.
1. Pencil & Paper Co.'s tablescape for House Beautiful. Absolutely beautiful. I love the mix of color and texture they chose. So summery and inviting!
2. Tie-shoulder peplum top. A recent purchase that I love. This printed top is just the cutest, colorful piece. Pair with classic or white denim, and you're all set to go!
3. Pineapple bookends. I can never seem to get enough pineapples! These bookends are my favorite and less than $20! They're a great way to keep all the books on your summer reading list together.
4. Three Reasons Why Slow Growth is Better than Fast from Lara. An encouraging read I think you'll appreciate.
5.  Four grown-up ice cream floats. One word – YUM!
6. Palm leaves welcome mat. One of my favorite Etsy finds and such a fun welcome for guests!
7. Lilly Pulitzer's Splash Into Summer Event. If you've been eyeing any Lilly lately, now may be a good time to buy. The prettiest free gifts with purchase now through Sunday!
8. Magnolia's Father's Day Gift Guide. Perfect for the dad who likes to work with his hands and loves #demoday and Fixer Upper.
9. Memorial Day side dishes from Southern Living. So many recipes from which to choose! I definitely want to try the Tex-Mex Deviled Eggs and the Shout Hallelujah Potato Salad.
10. Lettermade's American Flag cocktail napkins. Perfect for those red, white, and blue parties you're hosting this summer!