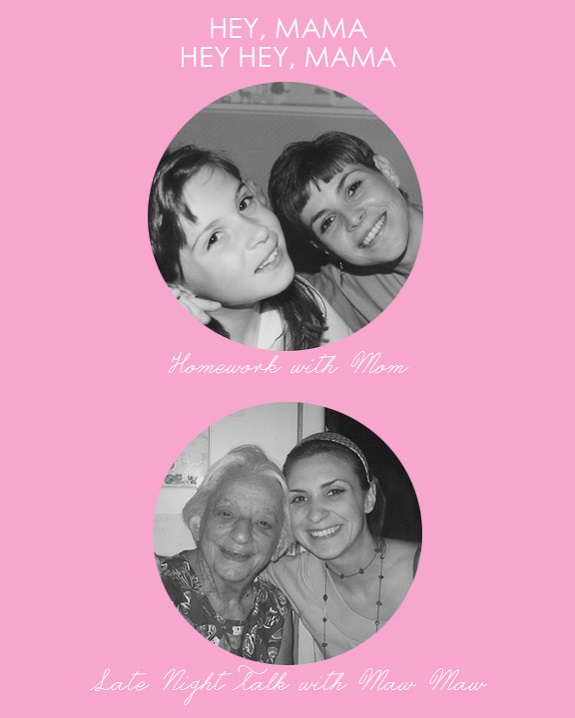 As we celebrate our mommas today, I'm looking back on some pretty good memories of my own mom and grandmother (known to me as Maw Maw). Dance parties in the kitchen, sweet notes in my lunchbox, home-cooked meals, shopping trips… and more hugs, kisses, and pinched cheeks than a girl could ever ask for. Both were amazing women that loved deeply and taught me so much. I cannot wait to be a momma someday and pass on the love to my own sweet babes. Here are just a few lessons I learned from my mom and grandmother:
1. Make your bed every morning. This one sets me up for success every day. If my bed is made, I feel productive and am prepared and ready to take on the day. And nothing beats getting into a nicely made bed (and cool, clean sheets!) at night. I think mom was on to something here.
2. Sit up straight. As I've gotten older, I've realized even more the importance of good posture. Even my doctor has emphasized the benefits (better health!) of proper posture.
3. Work hard. I was always encouraged to do my best at whatever I put my hands to. Hard work has opened the door to opportunities that otherwise may not have happened. So I believe working hard while staying humble and treating others with kindness is the right thing to do.
4. Always say "thank you". And "you're welcome". Ever notice how lax society has become when it comes to good manners? So much so that I've watched one complete stranger tell another the two important words they seem to have forgotten when someone holds a door open for them. Don't be that person. Remember that good manners matter.
5. Never forget to Whom you belong. You were called to live a life of love and integrity. Never settle for less than God's best for you.
6. Family is important. Always. My grandmother often reminded me of this. Especially as you get older, family will be what you have. Be there for one another. I sometimes remember this verse: A friend loves at all times, but a brother is born for adversity. Proverbs 17:17
7. Don't worry; everything will turn out alright (and it usually does, even if not in the way that you expected). Do not worry about anything; instead pray about everything. Philippians 4:6
8. Be happy and do some good. Happiness is a choice, so choose to do what makes you happy. Truly happy. Sometimes the best thing you can do when you're unhappy is to help someone else in need. You'll soon notice a change in your own heart and attitude.
9. Don't spend all your money. Be a wise steward over what you've been given.
10. Follow your gut. Never let your emotions or desire for immediacy cloud your judgment.
11. Be thoughtful. Remember the time your mom surprised you with that adorable Beauty and the Beast t-shirt and fanny pack just in time for Skate Night simply because she loves you and knew it was your favorite Disney movie? Or the time Maw Maw planned ahead and made your favorite meal – alphabet pasta, filet mignon, and green beans – and even painted your nails when you spent the weekend at her house? These are just a few other little things they did that meant so much. Thoughtfulness goes a long way.
12. Go on adventures. Life is short. Take hold of opportunity. Create opportunities. Try new things. Move to a new city. Travel. Discover the world around you. Don't be afraid to step outside your comfort zone; you can always come back home.
What lessons from your mom and grandmothers still stick with you today?
Happy Mother's Day to all you mommas!