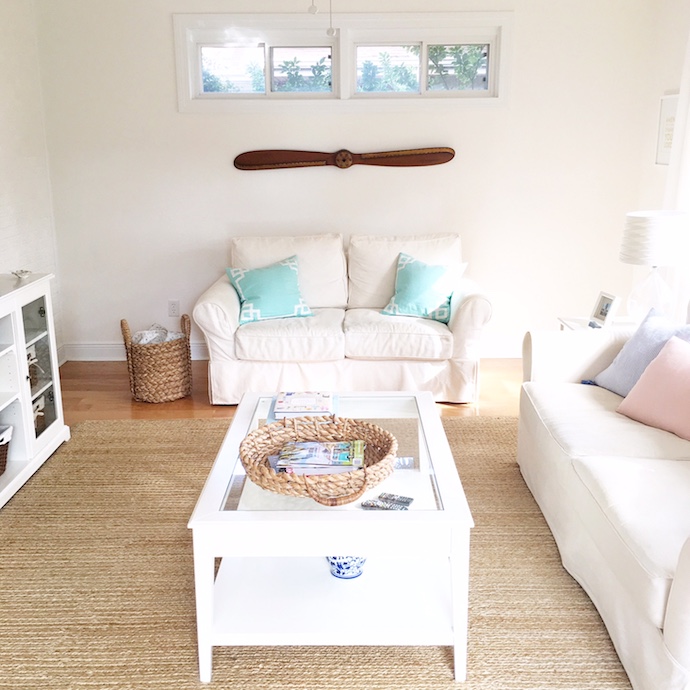 I get a steady amount of questions about my home. It's a renovated 1950's bungalow that belonged to my great aunt and uncle. I lived here with my aunt for a couple years while I finished up college, and a few years ago, I had the opportunity to purchase and make it my home, sweet home. (Something for which I am so grateful!) I've since renovated it and have enjoyed making it a light-filled retreat and welcoming place for family and friends. I love decorating. In fact, one of my favorite pastimes is decorating and making a space cozy and inviting. I can spend hours pouring over decor and design inspiration and beautiful pieces that only add to the beauty of a home. Over the years, I've added several items to my own home that have become my favorite decor pieces. In no particular order, here they are:
Blue and white ginger jars. A classic for any southern home. These can be pricey, but I found all of mine at Homegoods for less than $30!
French stripe tassel pillow. I love blues and this pillow cover from Caitlin Wilson is definitely my favorite. Durable, polished, and perfect for every day. It's been a great addition to my sofa.
Antiques. I have a few family antiques in my home, and they are some of the most beloved items I own. They've added a little more character to my home, and I appreciate their beauty and history. If you have any antiques that have been handed down to you, consider all options for use. You may not need a cedar chest in your bedroom, but it could make a lovely entry table.
Ikea Sideboard. What a deal! I use this as a media center. Neatly tucks away all media essentials and keeps the room feeling light and airy in bright white.
Beachcomber baskets. Great for added texture and holding all the things!
Pineapple lamp. My affection for pineapples runs deep. This was the best thing to happen to my desktop. (I purchased in white.)
Positano photograph. I dream of traveling across Italy. This photo takes me there every day. It's a beautiful picture that hangs in my front room and keeps me inspired.
Gilded champagne floor mirror. A statement piece and one of the first things people see when they walk through the front door. It makes the whole room feel bigger. Unfortunately, I can no longer find it online to link here, but Wayfair and One Kings Lane carried the mirror when I purchased it.
Ceramic plate of Mandina's Restaurant. This was a favorite dining spot for my grandmother and me. My nannie actually purchased this plate for me so I could think of my Maw Maw and also her when I see it.
Mandalay frames from Framebridge. I've had a couple photos framed in these frames, and they give me all the beachy, tropical vibes!
So, tell me! What are your favorites? Any decor pieces you absolutely love having in your home?