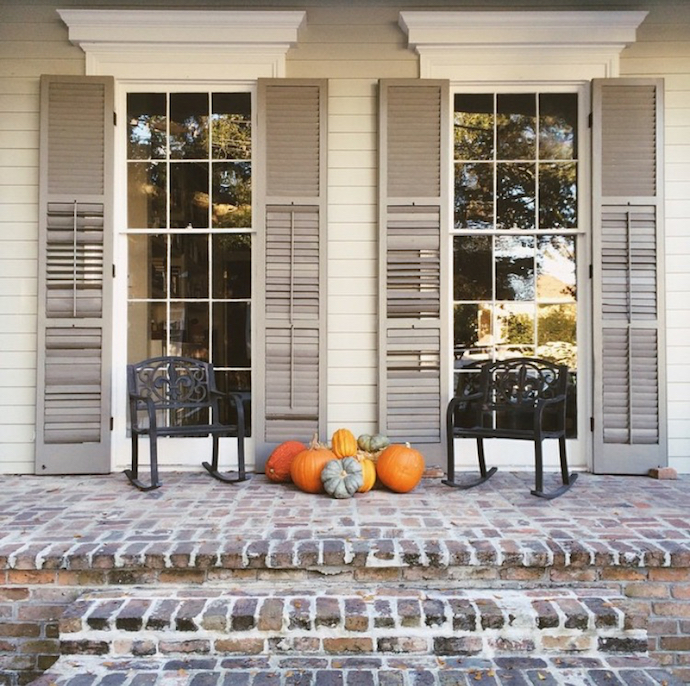 photo by Laura Steffan
Guys, we are just a couple days away from our favorite time of year. That crisp, cool air and those hot chocolate dates are just around the corner, and I am so excited! From falling leaves to decorated stoops and porches that warm our hearts, it's a no-brainer why we love Fall. Here are 10 things making me excited for the season:
Fall foliage. The leaves change colors, fall, and collect; and the colors are beautiful. Something about gathered, autumnal leaves bring me back to simpler days of my childhood when we would rake them up and jump on in! Haha (Remember those big, orange pumpkin trash bags that you'd stuff with leaves and leave on the lawn? I still love those.)
Our favorite TV shows return! YES!! Cozying up on the couch for all new episodes is the best. My favorites? The Middle, The Goldbergs, and Last Man Standing (cut from ABC – boo!, but I hear it's coming to Netflix… Speaking of Netflix, new episodes of Fuller House and Stranger Things return, too!)
More baking. Cooler days and nights mean it's the perfect time for baking. Pecan pie is on my bucket list, and I'd like to try a new bar or cookie recipe. Do you have a good recipe? Let me know if there's something I should try!
Pumpkins! I've already begun decorating for fall, but I will be heading to Trader Joe's this week to pick up a few more pumpkins, including mini white pumpkins! I'm also looking forward to making a trip to one of the local pumpkin patches and taking pictures. So fun!
Watching "It's The Great Pumpkin, Charlie Brown." This one is an annual tradition and a seasonal favorite. Bake cookies, pop corn, get cozy, and enjoy.
Fall fairs. The local schools host some great fairs. The BEST have delicious food, good music, and fun game booths and rides. There's also a few craft fairs you can check out. My aunt and I have one that we attend every year, and we usually find things we love enough to buy.
Dressing up for Halloween. Okay, so I'm not always in full costume (and I never do scary), but I do love an opportunity to get creative and play dress up.
Drinking hot chocolate and eating candy corn. I mean, what is fall without hot chocolate and candy corn? These are essentials.
Fall nail color. I usually prefer a pink, blush, or red but love playing with color a little more during the fall. Last week, I went with OPI Barefoot in Barcelona and am excited to try an all-new hue next.
Giving thanks. Thanksgiving is one of my favorite holidays. I'm back in New Orleans this year, so I'll more than likely be hosting dinner. Gathering with the people I love most to reflect on all we've been blessed to have and give thanks to God is my favorite thing. Gratitude always points our hearts to what matters most.
What are you looking forward to this Fall? Let me know in the comments!
Happy Wednesday!